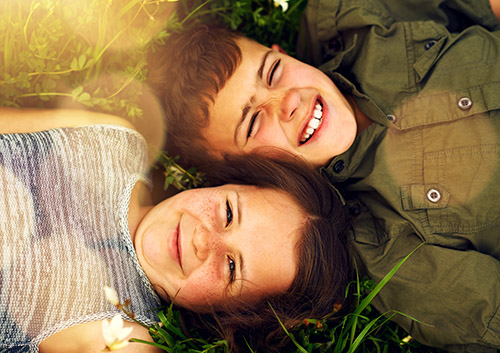 Your bright smile means you're happy, and it's catching! Sharing your smile makes the people around you happy, too! And you can make sure your smile is as bright as it can be by keeping your teeth their cleanest.
Nobody wants food stuck in between their teeth, but cleaning your teeth doesn't just mean brushing away any leftover bits of food. It also means brushing away the sticky plaque that builds up on your teeth every day. Germs in plaque called bacteria help make cavities, so it's extra important to brush and floss away all the plaque you can.
When you were younger, a grown-up cleaned your teeth for you. Now that you're ready to begin brushing and flossing on your own (with some adult help, of course), here are some good habits to start you off right.
Brush the Right Way
Brush a tooth or two at a time with small brushstrokes and circles. Long back-and-forth brushstrokes miss a lot of plaque. Make sure you brush all the different sides of your teeth, not just the ones which show when you smile. Brush on the inside of your teeth and the tops of your molars (those big teeth in back). Use up-and-down strokes to clean behind your front teeth.
Tip your toothbrush toward your gums while you brush along the gum line to get the plaque that likes to hide there.
Don't scrub your teeth. The tooth enamel that covers and protects our teeth is very strong, but brushing too hard can hurt it. Gentle brushing works!
And don't forget to gently brush your tongue for fresh breath.
Take Your Time
You can't keep your teeth their cleanest if you don't spend enough time brushing them! That's why dentists say it's best to brush at least twice each day, for two minutes each time you brush.
It's hard to guess how long two minutes is, so use a little timer to keep track of the time. If you like music, play a song that lasts two minutes. Or ask a grown-up to time you—and maybe even brush with you!
Use the Right Toothbrush
You want a brush that is just the right shape and size. A brush which is too big is hard to use—and hard to fit inside your mouth.
You want a brush with soft bristles. Medium and hard bristles are too hard, and can scrape your enamel and gums. Stay with soft bristles, and your teeth and gums will be healthy and happy.
Toothbrushes don't last a very long time because their bristles start to break down after a while. After all, it's hard work cleaning teeth twice a day every day! So it's a good idea to change your toothbrush every three or four months, or whenever the bristles start to look a bit scruffy.
Use the Right Toothpaste
Fluoride toothpaste helps protect your teeth from cavities and makes your enamel even stronger than it already is. There are plenty of fun-flavored fluoride (say that three times fast!) toothpastes to choose from.
You don't need too much. Once you're brushing on your own, a small dab about the size of a pea will do the trick.
Be sure to spit out the toothpaste after brushing. It's for cleaning, not swallowing!
Don't Forget to Floss
Once you have any teeth that touch each other, you need to floss between them at least once a day. Flossing is the best way to get rid of the plaque that hides between your teeth where your brush just can't reach.
Flossing can be a little tricky at first, so you might need some help until you're able to floss on your own. Drs. Hutcheson, Train, Goodall, Lewis can teach you the best way to floss, and a grown-up at home can help you until you're ready to floss by yourself.
There are lots of different kinds of floss. If you're having trouble flossing, ask our Richardson or Carrollton dental team which kind is best for you.
Every smile is different, and yours is one of a kind. If you have any questions, talk to your pediatric dentist. Dentists don't just take care of your teeth—they teach you to take care of your teeth, too! Your dentist can show you the very best way to keep your very own smile as bright and healthy as it can be.