December 7th, 2023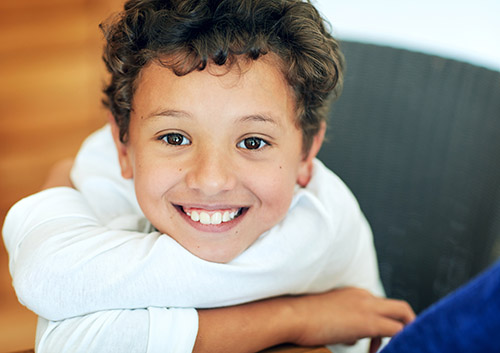 It's your child's first filling at our Richardson or Carrollton office, and perhaps you're both a little nervous. Your child doesn't know what to expect, and you want to make sure this is a positive experience. We have some suggestions that might help both of you!
Partner with Your Child's Dentist
Because a pediatric dentist is a specialist in treating children and their dental needs, your dentist will have some suggestions for making that first filling a comfortable and comforting experience.
And because you're the expert when it comes to your child's needs, you can let Drs. Hutcheson, Train, Goodall, Lewis know about anything that might cause your child difficulty or anxiety beforehand.
Age-Appropriate Explanations Are Best!
It's a good idea not to make any explanations too complicated. "Your dentist will help your tooth get strong and healthy again" might be all a young child needs to hear. And talking about drills or needles can be scary, especially when kids have no experience with dental tools and procedures.
A pediatric dentist can help you describe cavities and the filling procedure in an age-appropriate, non-scary way—and can recommend helpful story books for reading ahead of time!
Discuss Sedation Beforehand
If you think your child would benefit from light sedation options such as nitrous oxide or oral medication, talk to Drs. Hutcheson, Train, Goodall, Lewis about sedation procedures.
Your dentist will also have child-appropriate ways to talk about local anesthetics if they're needed to numb the area around the tooth.
Most adults are familiar with dental tools, but this will be a new experience with new sensations and sounds for your child. A pediatric dentist can describe what each tool is and what it does so kids are comfortable when an instrument is used.
Sometimes a tool can be noisy or vibrate. Some tools squirt water and some (loudly) suck water and debris away. If noises are a problem for your child, let your dentist know in advance, and ask about music or headphones to help minimize sounds.
Filling Material Concerns?
For molars, which bear the weight of chewing pressure, a silver-colored amalgam might be recommended. For a filling in the front of the mouth, a tooth-colored composite could be used to blend in. Fillings can also be made with gold or ceramic materials. A severely decayed tooth might require a crown, which is often made of stainless steel when used for a baby tooth.
If you have questions or concerns about the type or appearance of filling material, ask! Your dentist will be happy to explain which material is best suited to restore the appearance and function of your child's tooth.
Getting Ready for the Appointment
Choose an appointment day with a light schedule and let your child dress comfortably. Ask if your child can bring a favorite toy or a stuffed animal friend for comfort.
Your mood will influence your child, so make the day of the appointment as stress-free as possible for the both of you! That's why it's a good idea not to talk about any dental fears you might have, or any discomfort your child might experience. Your child will pick up on your feelings, so projecting a calm and positive attitude will help.
Your dentist team will give you instructions for your child's quickest, most comfortable recovery. These instructions include how to treat the extraction site, which foods are best, and over the counter pain medication.
It's best not to plan strenuous activities immediately after a filling.
Partner with Your Child's Dentist
Yes, we know we already talked about this, but it can't be stressed enough. When your child has his or her first filling, in a way it's your first filling, too! Your pediatric dentist is there to help you navigate this procedure and to help make sure that the experience is a positive one for both of you.